International Milton Symposium - IMS12
17-21 June 2019, Palais Universitaire, Strasbourg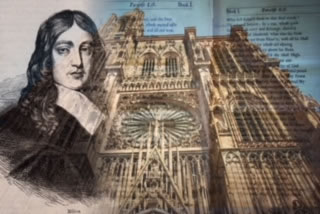 IMS12 CONFERENCE PROGRAMME
Monday 17 June 2019
08h15-09h00: Registration and Welcome Coffee in the Great Hall (Aula) of the Palais Universitaire (Aula / Great Hall)
09h00-09h45: Welcome Address & Inaugural Paper by Michel Deneken, President of the University of Strasbourg. (Room Pasteur)
09h45-10h15: Opening speech by Gordon Campbell, University of Leicester (video recording): The History of Milton Symposia (Room Pasteur)
10h15-12h00: Plenary session I by Hiroko Sano (Professor Emerita, Aoyama Gakuin University, Tokyo, Japan): "Doré's Illustrations to Paradise Lost and his Bible Illustrations", and Joan Blythe (Professor Emerita, University of Kentucky, USA): "Milton's Role in the Reestablishment of Religion in France under Napoleon" (Room Pasteur)
12h00-14h00: Lunch break at "Le 32" - 32, avenue de la Victoire, Strasbourg
14h00-15h45: Panel sessions 1
(1a) Reason in Paradise Lost - Chair: Brenan Prawdzik (Room 113)
Emilia Di Rocco (Associate Professor in Comparative Literature, Sapienza Università di Roma, Italy): "The Desire to Know and Capacity for Wonder in Milton's Paradise Lost"
In Plato's Theaetetus Socrates ties wonder and knowledge in a binding knot when he defines wonder as "the only beginning of philosophy" and acknowledges it as a distinctive feature of the philosopher. Aristotle associates wonder with understanding and underlines that both of them are pleasurable as is wisdom. In the Metaphysics the Stagirite links this passion to man's basic drive for learning and truth, while emphasizing that it possesses both an emotional and a cognitive meaning.
Aristotle's words call attention to the capacity for wonder built in human nature as the necessary passion that inspires the desire to know in man, who is naturally a contemplative being. His seminal thoughts on wonder provided fertile ground for philosophy, literature and science, both in their attempt to neutralize wonder and to internalize it.
By focusing on some of the most famous scenes, such as Satan's awakening in hell in Book I and his address to the fallen angels and Raphael's narrative of the creation of the world in Book VII, this talk addresses the whole set of emotions that characterize wonder in order to show how fruitful an analysis of wonder can be for a full understanding of Milton's Paradise Lost.
Ben LaBreche (Associate Professor of English, University of Mary Washington, Fredericksburg, Virginia, USA): "Pontificating Milton: The Problem of Rational Discourse in Paradise Lost"
The bridge-building episode in Paradise Lost has typically been understood as a depiction of absolute sovereignty—the tyranny of popes and Hobbesian monarchs—and thus as a demonic inversion of the free, rational politics found in Milton's prose of the 1640s and 1650s. This paper, in contrast, will draw on recent political philosophy to stress the paradoxical connection of sovereignty to the immanent processes of biopolitics, politics understood as mere administration of biological life. Both in the bridge-building episode and in a network of closely related images, Paradise Lost associates building not only with tyrannical sovereignty, but also with the people rationally interacting in the public sphere, a sphere that—despite its claim to ground a free and just political life—is itself subject to the demands of biological existence. The rational liberty of free speech and republicanism, Milton thus acknowledges, cannot be neatly separated from darker forms of rationalization that are naturalistic, ethically minimal, and ultimately biopolitical. Such a general critique of rationalism suggests a substantial reorientation since Milton optimistically described the bottom-up building of the Temple in Areopagitica, and such a change in Milton's views about building, in turn, asks us to reconsider recent scholarship on political theology that has pinned its hopes on human making—particularly literary poiesis—as a widely disseminated, liberating version of the sovereign decision.
Maria Isabel Maza (Doctoral candidate, Penn State University, University Park, Pennsylvania, USA): ""[W]hen God gave him reason, he gave him freedom to choose": Gendered Knowledge Acquisition in John Milton's Paradise Lost"
In Areopagitica, Milton questions: "what wisdome can there be to choose, what continence to forbeare without the knowledge of evill?" Milton continues: since God gave Adam reason, he gave Adam the freedom to choose between good and evil. Genesis 2:15 does depicts God commanding Adam not to eat from the Tree of Knowledge. In Genesis 3:1, Eve tells the serpent that "God hath said" that she should not eat, nor touch, the fruit, as she would die if she did. However, Genesis does not depict God speaking directly to Eve.
The lack of direct conversation between Eve and God (and angles) in Genesis is also prominent in Paradises Lost. Eve, in Book VIII, claims she would rather converse with Adam later than learn from Raphael. Nonetheless, readers of Milton are not privy to these conversations between Adam and Eve; we do not know how thorough or complete Adam's lessons to Eve were. Did Milton's Eve have enough knowledge to understand evil? This paper argues that Milton, in Paradise Lost, depicts a form of gendered knowledge acquisition that leaves the female-gendered characters with a limited wisdom to choose, one that reflects Milton' own England.
(1b) Milton and Rhyme - Chair: John Leonard (Room 120)
Diana Benet (Professor of English, University of North Texas, Texas, USA): "Leave 'em as you found 'em": Milton, Dryden, and Appropriation"
Anyone who has read Paradise Lost knows that when Milton published his epic in blank verse he declared allegiance to the ancients, and anyone who has read An Essay of Dramatick Poesie knows that Dryden there declared rhyme to be the modern mode. This paper challenges a literary myth by re-examining the story, first reported by John Aubrey, that Dryden sought and received Milton's approval to recast Paradise Lost in rhyme. Although most scholars silently accept the tale, I will show that it is improbable by summarizing the context of the poets' choices and paying particular attention to paratextual materials.
Maggie Kilgour (FRSC, Molson Professor of English Language and Literature, McGill University, Montréal, Québec, Canada): "The Pattern of Rhyme in Milton's 'Nativity Ode'"
Since the publication of Arthur Barker's seminal 1941 essay (the title of which I have adapted here), critics have seen the structure of the "Nativity Ode" as a movement through a series of carefully orchestrated stanzas towards unity and closure in the figure of the incarnated Son. This paper turns to the role of patterns of rhyme in the construction of the poem's unity and meaning. Milton's Headnote to Paradise Lost has too often stopped readers from thinking about the importance of his early experiments with forms of rhyme. Split into two parts, like the 1645 Poems as a whole, the "Nativity Ode" begins with four seven-line stanzas of rhyme royal, a traditional form used also for its companion poem, "The Passion," as well as Milton's earliest English poem, "On the Death of a Fair Infant Dying of a Cough," before turning to a complex, original, eight-line stanza made up of varying line lengths. Analyzing the two forms and the relations between them, I suggest that the tensions between both the two parts and also within each of the distinct patterns embody poetically the paradox of the incarnation.
Henry Weinfield (Professor, University of Notre Dame, Indiana, USA): "Milton's Rhymes: Sound and Sense in his English Sonnets"
In Alexander Pope's neoclassical formulation, "The Sound must seem an Eccho to the Sense." Most of the critics who have written on Milton's sonnets seem to take Pope's attitude for granted: they write as though Milton had a worked-out idea of some kind that he then merely put into sonnet form. In my view, this understanding of Milton's poetic process in the sonnets is wrong. Milton's use of rhyme in his sonnets is dialectical: it allows for a dynamic interaction between form and content that would otherwise have been impossible to achieve. Focusing on Sonnets 8, 9, 11, 12, and 13 from this perspective, this paper will attempt to shed new light on Milton's poetic process (and practice) in the sonnets.
(1c) Milton's Prose (I) - Chair: Tobias Gregory (Room 124)
Daniele Borgogni (Associate Professor, Università degli Studi di Torino, Turin, Italy): "Wens and Knots: Conflicting Metaphors in Of Reformation"
In my paper I would like to discuss Milton's politics of religion from the perspective of recent theories of metaphor analysis. My attention will be devoted in particular to Of Reformation, a notoriously rough text which Don M. Wolfe characteristically described in a metaphorical way as a "hard pine log full of knots and unexpected twirls". While the argument of this tract is often so intricate as to challenge the reader's understanding, Milton's visionary conception of history and his apocalyptic strain rely on conflicting metaphors and metaphorical swarms to stimulate an imaginative vision in which concepts and images are inseparably welded together. Modern metaphor theories provide useful instruments to discuss and highlight the peculiar nature and scope of Milton's reliance on metaphors as privileged instruments for his "vindication of truth", but they also shed light on the relation between Milton's creativity and ideological violence. As a matter of fact, metaphors in Of Reformation do not only buttress self-authentication (or defamation), but open up new possibilities of signifying, and offer the opportunity of expressing religious ideas and ideological views in a different way, overcoming the typical problems of ambiguity which affected apocalyptic writing by reinterpreting stock images and epithets, and transforming them into original images.
Graham Parry (Professor, University of York, G.-B.): "Antiprelatical Milton"
Why was Milton so vehement in his attacks on the prelates of the Church? The rule of the Church by bishops was a central issue in the controversies of the Reformation. What were the historical justifications for government by bishops? Did episcopacy have any biblical sanction? What were the precedents offered by the primitive Church? Such questions were much debated, and in England the question of government by bishops was a major fault-line in religious polemics. Milton was unusually hostile and angry when he wrote about bishops in the Anti-Prelatical Tracts in the early 1640s. Yet as a young man he had written glowing elegies on the bishops of Ely and Winchester. What might have happened to cause him to become so vituperative in his denunciation of bishops in his tracts? He singles out three prelates in particular: Joseph Hall of Exeter, Lancelot Andrewes of Winchester and James Ussher, Archbishop of Armagh. Why did he choose to attack these widely admired figures? The answers involve Milton's interest in the early history of the Church in Britain, and his views on the value of antiquarian research for the advancement of the Reformation.
Antonella Piazza (Associate Professor of English Literature, University of Salerno, Italy): "Regicide in Shakespeare and Milton: Richard II (1595) and Eikon Basilike / Eikonoclastes (1649)"
In the history of Western imaginary Shakespeare's Richard II (1595) and Milton's Eikonoclastes (1649) contributed to the delineation of the rise and demise of the national Absolute King. They both feature a regicide: Richard II (1595) (a king Queen Elizabeth explicitly identified with in 1611) is the paradigm of the tragic deposition of the sacred anointed king and, though a contrario, it reaffirmed the principle of the inviolability of the divine monarch invested from 'above', while Eikonoclastes (1649) -- Milton's instantaneous and commissioned response to the just beheaded Charles I's posthumous Eikòn Basilikè -- contests that inviolability, negates once and for all the divine right of monarchy, and defends the right of the people to depose and execute an unjust king, and then legitimate a form of government from 'below'.
A comparative reading of Richard II (1595) and Eikonoclastes (1649) (and its symbiotic companion, Eikon Basilikè establishes a gravitational field where these texts attract and repel each other in dynamic configurations, questioning and problematizing the relationship between Shakespeare and Milton.
(1d) 'Delectable to Behold': Milton and the Visual Arts (I) - Chair: Angelica Duran (Room Pasteur)
Angelica Duran (Professor, Purdue University, West Lafayette, Indiana, USA): "A Groovy Illustrated Paraíso perdido"
A Hispanophone Paradise Lost, El Paraíso perdido (Mexico, 1967), clearly reflects its historical context and post-colonial hybridity. As the edition advertises, the text is a prose reworking by an anonymous co-translator of the enduringly popular 1812 verse translation by Ibero-Spaniard Juan Escóiquiz. The illustrations are similarly hybrid, containing 36 of the 50 black-and-white plates by France's Gustave Doré, which became the visual lingua franca of Milton's epic internationally from their first publication in 1866; 23 newly-commissioned illustrations in the vibrantly-colored cromo genre popular in Mexico by a little-known Mexican artist, Miguel Fernández de Lara; and 5 additional anonymous ones. Special attention will be given to Doré's and Lara's visual images of the Son figure since, together, they provide insights into the flexibility of the verbal images of Milton's epic, in its original and (intralingual and intersemiotic) translation.
Wendy Furman-Adams (Professor, Whittier College, California, USA): "Eve and the Artist's Gaze"
From the first illustrated edition of Paradise Lost, artists have illuminated not only Milton's poem, but their own historically-grounded readings thereof. Each has emphasized different aspects of Milton's vision--different works, different scenes and thematic elements. Each, as a reviewer of illustrator Mary Groom put it, has "see[n] Milton with other eyes." Nowhere is this double context better illustrated than in visual interpretations of Milton's Eve, from Henry Aldrich's soulless cupie doll of 1688 to the feminist Eves of Carlotta Petrina (1936) and Mary Elizabeth Groom (1937). Over the course of 300 years, illustrators move from simplistic and occasionally misogynic representations of our first mother--often grounded more in previous visual tradition than in the nuances of the actual text--to interpretations that engage all the ambivalence and complexity embodied by Milton's truly epic heroine.
Mario Murgia (Professor of English, Universidad Nacional Autónoma de México, Mexico): "Paradise Lost as (Hispanic) Graphic Novel"
Adapted from Milton's Paradise Lost and illustrated by award-winning Alicantine artist Pablo Auladell, El Paraíso perdido (Madrid, 2015) offers Spanish-speaking audiences a visually compelling—and often disturbing—approach to the epic by combining the brisk narrative techniques of comic strips with the dark, suggestive imagery of its pictorial forerunners—Francisco Goya, Gustave Doré, and Marc Chagall. In his paper, Murgia discusses how, in the prevailing Catholic context of the Hispanosphere, Auladell sketches unusually down-to-earth, figurative (in the pictorial sense) representations of God the Father, the Son, and Satan in particular. He also considers the ways in which Auladell's work positions itself as a milestone among contemporary Miltonic refashionings, as well as the place of this graphic novel in the fairly long line of illustrated Hispanophone editions of Paradise Lost.
(1e) More on Milton's Monism - Chair: Steve Fallon (Room 112)
Current scholarly interest in the representation of Milton's monistic universe has tended to focus on angels. This panel will consider three less explored manifestations of Miltonic monism in Paradise Lost: the poet's representation of satanic venom (Philippa Earle), of material thought (Charlotte Nicholls), and of light (Karen Edwards).
Philippa Earle (PhD, Associate Lecturer, Bath Spa University, G.-B.): "Venom and the Failed Temptation"
Readings of Eve's Satanically induced dream in Paradise Lost tend to focus on Eve's morality—on the question of whether she is, or not, already fallen. Diana Treviño Benet has pointed to Satan himself as the source of the dream and to the significance of the theory of animal spirits. Folkloric beliefs about the ability of spirits to enter the human body, for Benet, mean that Satan has the potential to "taint" Eve's animal spirits. But Milton "seeks to establish Eve's innocence definitively," she argues, because this tainting does not and cannot (without Eve's wilful consent) actually happen. In this paper, I will suggest that lack of consent is not enough to protect Eve from this particular kind of external contamination. The tainting of Eve's spirits, I want to argue, is a process that becomes dangerously manifest during the dream, because Satan's "venom" should be understood as a material property of speech. The Satanic dream is both induced and dispelled, I will propose, by the interaction between vital spirits in the blood and the physiological properties of voice and sound. By exploring this interaction, my paper will address two emerging questions: how, logically and physiologically, is Satan the origin and producer of the dream? And if Satan instigates bodily infection here (as I am suggesting), why does this method of temptation fail?
Karen Edwards (Professor of Renaissance Literature, University of Exeter, G.-B.): "Light and the Grammar of Monism" (CANCELLED)
Looking at the invocation to light at the beginning of Book 3 of Paradise Lost, I will ask in my paper if there is a grammar of monism. Is it possible, that is, to represent the 'amphibious' nature of creatures without recourse to the language of duality? To say that creatures participate in material or spiritual reality obviously confirms dualism. But so, too, does saying that creatures participate in material and spiritual reality, a statement that separates the two realities. The grammatical problem is particularly acute with the representation of light. Is light wholly spiritual, i.e., non-material? Or is it almost non-material and thus to be distinguished from the light which is God? My paper will propose that Milton devises a grammar that resolves these complexities.
Charlotte Nicholls (PhD, Honorary Research Fellow, University of Exeter, G.-B.): "Material Thought in Paradise Lost"
At the upper end of the scala naturae outlined by Raphael in Book 5 of Paradise Lost, Milton makes a seemingly idiosyncratic adjustment to contemporary physiology: he introduces the novel category of intellectual spirits. They are, it seems, "sublimed" out of the lower, and more conventional, vital and animal spirits of the human body; their presence implies that rational thought and the rational soul are themselves material. This paper explores the significance for Milton's monism of theories of chymically active bodily fluids, themselves the latest innovations of experimental physic in the 1650s and 60s. In this arena, too, a sophisticated sort of monist materialism was developing. The consequences of such a theory of body and soul are politically charged, and as understanding of Milton's science develops, so too should our perspective on the Miltonic body politic.
(1f) Milton and Materiality - Chair: James Grantham Turner (Room 118)
Attention to the material, the corporeal, the monistic is essential for understanding the passions that drive Milton's utterances on politics and religion. Many of his most radical stances are grounded in and draw their arguments from the physical disposition of matter, engrained by "nature" in the very tissue of the body and in the "dark materials" of the creation. Notable examples are the "writhing" and "unboned" bodies of fellow students at Cambridge about to join the corrupt Church, the emasculating effects of Episcopacy, the "not moral but natural" aversion of the badly matched couple for whom divorce is a god-given necessity; even when raging against "the slavish errands of the body" Milton's solution is a better way to "incorporate." These papers explore different aspects of corporeality in Milton's oeuvre, drawing on research in seventeenth-century physiology and philosophy of perception.
Sarah Sands Rice (PhD student, University of California, Berkeley, California, USA): "Imagination as a Biological Force"
Early modern physiology conceived of imagination as a corporeal phenomenon, and a poisoned imagination could be quite a literal complaint. It is in that sense that Milton describes Satan "inspiring venom" into Eve's ear to access "the organs of her fancy" and "taint / The animal spirits that from pure blood arise." Satan prompts Eve to "distempered thoughts" by distempering her body. He renders her animal spirits – and perhaps even the blood from which they arise – impure. Eve's dream and the symptoms of biological imbalance that she displays upon waking demonstrate that Satan's venom has had its desired effect: an effect that is, at root, biological. The materiality that Milton grants to Satan's poisoning of Eve's imagination radically disrupts the narrative of bodily corruption appearing as a result of the Fall. Instead, Satan's physical corruption of Eve's imaginative faculties precedes and enables Eve's moral corruption, compromising her agency in the Fall. The entry of sin into humanity becomes a matter of the introduction of an external, material evil into the human body, and impurity of spirit becomes inseparable from impurity of substance.
Miles Drawdy (PhD student, University of California, Berkeley, California, USA): "Milton's Deafness: Materialism and Disability in Seventeenth-Century Thought"
Materialist philosophies of the seventeenth century – to the extent that they are empirical – are fundamentally invested in both the senses and language. For this reason, deafness presented a complicated challenge: the uncooperative ear was understood to be incompatible with the idea of a universe elegantly and exhaustively defined by the interaction of material substance. This begins to explain why Hobbes describes deaf persons as irrational (or, at the very least, as incapable of abstract thought). Milton, however, makes deafness a fundamental characteristic of postlapsarian experience. Especially throughout his earlier poems, Milton explicitly characterizes fallen man as deaf to the song of the celestial spheres and needing to learn to hear. I will situate Milton's materialism among that of his contemporaries by focusing on his description of deaf experience. In doing this, I will relate Milton's philosophical project – and materialism more broadly – to contemporary experiments in deaf education.
James Grantham Turner (James D. Hart Professor, University of California, Berkeley, California, USA): "Milton's Skin"
Why would a distinguished statesman and poet, in the midst of justifying the most drastic coup d'état in European history, insist on telling us what great skin he has? Partly, of course, because his attacker has resorted to ad hominem insults. But for Milton this is much more than a rhetorical tactic: he wants to claim that despite the ravages of age and blindness he embodies virtue, quite literally and corporeally. Milton invites the proper reader of this Latin Second Defence to experience the seductive presence of the author, to look into eyes that still look clear and touch that perfect complexion. By the same logic he must try to destroy his opponent in the flesh, de-facing him. As scholars and teachers, Miltonists need to get under that skin.
<< back to Panel sessions 1 MENU
15h45-16h15: Coffee break (Great Hall)
16h15-18h00: Panel sessions 2
(2a) Eve - Chair: Ross T. Leasure (Room 113)
Tianjiao Li (Southwestern University, Chongqing, China): "Who seduces Eve? Milton's Satan and the serpent"
Satan's temptation of Eve is regarded by most readers as the crucial temptation event of Paradise Lost. Yet scholars have tended to ignore the difference between Satan's 'entering' the serpent, and Satan's 'becoming' the serpent. Other scholars regard the description of the serpent as peripheral to the epic's main themes; still others, as demonstrating Milton's confusion of snake and Satan, of matter and spirit.
My contention is that Milton carefully considered and intentionally designed the interaction of Satan and serpent. I will analyse the process of temptation and the punishment that follows through Milton's animist materialism, demonstrating that because the collocation of the serpent and Satan seduces humankind, both must be punished. Milton's animist materialism thus becomes the basis for solving the exegetical puzzle posed by Satan's relationship to the serpent
John Rumrich (Professor, University of Texas, Austin, Texas, USA): "Eve's Dream and Milton's Theodicy"
God in Paradise Lost is not immune from the charge of injustice that Milton insists must apply to an omnipotent creator who would punish his creatures for sins they necessarily commit—at least not if we construe necessity according to the strict standard Milton lays out in Christian Doctrine. The episode that makes this clearest is Eve's dream. Alastair Fowler claims that because Satan gains access to Eve's imagination only, Eve's freedom remains untouched. But this assessment depends on dualist traditions that distinguish body from spirit on ontological grounds and privilege the immortal rational soul. It cannot be reconciled with the vitalist-monist account of the human psyche offered by Raphael only a few hours after Eve's dream is recounted. By the time of Satan's apprehension, unsuspecting Eve has been physically and psychologically assaulted and contaminated. Even worse, she and Adam remain unaware of her altered state. When God orders Raphael to warn them, he does not ask the smiling spirit to identify God's hardened adversary as the perpetrator of Eve's otherwise impossible dream. It would require no artful accommodation on Raphael's part to report that Satan's obdurate plotting has advanced to such an extent that Eve was a victim of auricular invasion while they slept.
Anthony Welch (Associate Professor and Director of Undergraduate Studies, University of Tennessee, Knoxville, Tennessee, USA): "Eve's Dreamwork"
From Daniel Defoe to modern critics like Tillyard, Bell, Stein, Ogden, and Bellamy, Milton's readers have wondered whether Eve is morally culpable for her illicit dream in book 5 of Paradise Lost. Such questions are sometimes distorted by anachronistic models of Freudian dreamwork. Yet Milton portrays Eve's dream as a demonic possession, rooted in a long lineage of epic dream encounters stretching back to Ennius and Virgil. In Roman epics of civil war, these supernatural dreams routinely inflamed the poems' villains; Christian epic poets from Vida to Valvasone refashioned these episodes into Satanic temptations of God's enemies. In the epic poetry and pamphlet literature of the English Civil War era, these Virgilian dreams became the site of a fierce polemical contest over the nature of divine inspiration and authority. This paper argues that Eve's demonic dream is a complex, ambivalent, densely allusive, and finally unresolved response to this ancient literary motif and its early modern reception. Through a pattern of verbal echoes, Milton links Eve's dream to prior episodes in Protestant epics by Du Bartas and Fletcher, but also to a matrix of passages in Paradise Lost that ponder the dangers of literary creativity, inspiration, and flight, from Satan's journey through Chaos to the narrator's own nightly visitations by the Muse.
(2b) Translations - Chair: Neil Forsyth (Room 112)
Rosamund Paice (Dr., Principal Lecturer in English Literature, University of Portsmouth, G.-B.): "Divine Interpreters and Impossible Translations in Paradise Lost"
Moving discussions of Milton's translation-related pursuits away from matters of interlingual production, this paper argues that acts of translation in Paradise Lost engage with and respond to classical theories of translation, early modern debates concerning the particular issues of sacred translation, and the Bible's presentation of the difficulties of communication between heaven and earth. By positioning Raphael's concerns about 'lik'ning spiritual to corporal forms' alongside the desire of Milton's narrator to channel the muse's song, I demonstrate that both couch their narratives in terms of translation; both accentuate the gulf between spiritual and corporal forms; and both highlight anxieties about translation as trespass. Moreover, whereas Raphael's 'lik'ning' may be sanctioned by God, Milton's narrator flirts dangerously with the limits of the human and the (il)legitimacy of his self-created mission. This suggests that Milton envisaged language confusion to be caught up in the problem of the unknowable even in a prelapsarian and pre-Babel world, which in turn indicates that Milton believed the ideal of perfect translatability to be impossible. Rather than attempt to hide the originary gaps necessitating translation, Milton draws attention to them, presenting translation as a necessary, divinely-sanctioned, but inherently problematic activity within Paradise Lost.
John Mulryan (Distinguished Board of Trustees Professor, St. Bonaventure University, Allegany, New York, USA): "Paradise Lost in Translation: The Strasbourg Connection"
Since Strasbourg is a French-speaking city with a number of German speakers (although the number has decreased since World War II), it stands to reason that Milton enthusiasts in Strasbourg (both past and present), even those conversant in seventeenth-century English verse, would also access German and French translations of Paradise Lost, as they became available.
The first German translation, by Ernst Gottlieb von Berge, appeared in 1682, but it was overshadowed by J. J. Bodmer's translation in 1723/24. This translation was evaluated by George Burridge Viles, in his Cornell University dissertation, "Comparison of Bodmer's Translation of Paradise Lost" (1903). According to Viles, "Bodmer has followed the original so closely and accurately . . . that my labor was reduced largely to noting the difference in idiom of the two languages."
Turning to the French translations, there were 17 full translations, beginning with Dupré de Saint Maur's illustrated 1743 translation and concluding with Jacques Delille (1805). Chateaubriand's masterpiece appeared in 1836 and 2001. Thus Milton's Paradise Lost has been well served by its German and French translations, the first for its accuracy and the second for the prodigious number of available translations.
Christophe Tournu (Université de Strasbourg, France) : « 'J'ai cru servir la littérature, j'ai désiré de bien mériter de la patrie'. The First Complete Verse Translation of Paradise Lost : Abbé Le Roy's Paradis perdu (1775)»
This paper investigates the method of translation that was most frequently used before Chateaubriand made "a revolution in the manner of translating" in 1836, when he claimed he did a calque à la vitre with his own translation of Paradise Lost. Abbé le Roy's Paradis perdu (1775) is the first complete verse translation of Paradise Lost into French. The translator, as we shall see, was perfectly aware of what the critics (Addison, Pope, and Voltaire) had written about Milton's grand poem, and he rendered Milton's text in French verse (rhymed alexandrines). Consequently he made changes that tailored Milton's text to the taste of his own times, including a few remarkable curious changes. As Le Roy was also Preacher to the King, besides his being a staunch Roman Catholic, he amended Milton's verses to make them politically correct. Thus his translation, that he claims to be "faithful", is in fact a naturalization of Milton, a domestication or assimilation of a foreign masterpiece of literature, at a time when France was flourishing in Europe.
(2c) A Maske - Chair: Stephen B. Dobranski (Room 124)
Tessa Crossley (Doctoral candidate, University of Exeter, G.-B.): "Dinah and the Lady: Deuteronomic Rape Law in A Maske Presented at Ludlow Castle"
At the climactic moment of her animated debate with Comus, the Lady subsides into sudden and conclusive silence. Initially protesting that she "had not thought to have unlockt [her] lips / In this unhallow'd air," the Lady's initial reluctance and yet the forcing open of her virgin lips has increasingly been recognized as a metaphoric rape. Indeed, the masque's emphasis on chastity and its atmosphere of sexual danger cannot be ignored. Accordingly, the Lady's silence – the punishment for female promiscuity – and her continued imprisonment after the entrance of her two Brothers has received much scholarly attention.
I argue that a new approach to the Lady's problematic trajectory can be demonstrated through an examination of Milton's reading of the Bible. This essay argues that through an exegetical re-imagining of the Bible and its interpretive history, Milton in fact "confers" the situation of the Lady with that of Dinah in the Bible (Gen. 34), a pairing that has not been hitherto observed. Reading the masque in light of Dinah's narrative, together with Deuteronomic rape law, provides a fresh reading of the Lady's plight and Milton's engagement with the Bible.
Stephen Guy-Bray (Professor, University of British Columbia, Vancouver, Canada): "Some people never had experience with air": Air in A Maske"
While a certain amount of scholarly work has been done on air in Paradise Lost, in this paper I want to look at the role of air in Milton's early masque. Here, instead of being merely the empty space surrounding both humans and nature and through which sounds and sights are conveyed, air moves from being an object to being a subject. Milton is interested in what can be conveyed through the air—perhaps most obviously sound, and especially the sound of poetry, but also knowledge of various kinds. In a text that suggests that the sense of sight cannot be trusted the air—dusky, clear, liquid—becomes an important presence. My discussion of A Maske will be informed by my consideration of Robert Burton's comments on air in The Anatomy of Melancholy. Like Milton, Burton sees air as an active and important force. Both writers present air as something we should pay attention to and not something we should merely look through.
Feisal G. Mohamed (Professor, CUNY, New York, USA): "The Ludlow Maske: Milton's Defense of Royal Prerogative?"
Especially since the landmark Campbell and Corns biography, a portrait of an unradical young Milton has emerged, to which this paper contributes by exploring the legal position of the Council in the Marches of Wales, of which Milton's patron, John Egerton, Earl of Bridgewater, was president. Especially for the English counties under its jurisdiction, the Council was deemed an irregular institution established by royal prerogative that deprived freeborn Englishmen of their right of access to the common law courts. That it was shackled in reputation to the Council in the North, of which Thomas Wentworth, Earl of Stafford was president, did not help matters. After looking at relevant documentary evidence surrounding the Council in the Marches, and the text of the entertainment itself, I will argue that it is partly the aim of Milton's Maske to lend legitimacy to Egerton's contested position, and to style his household as precisely the place from which justice and order ought to emanate on the Welsh frontier. In this way, and contrary to our expectations, we find a young Milton endorsing a controversial branch of royal prerogative, though we will explore ways in which this nonetheless remains a "reformed" masque in its religious politics.
(2d) Milton and Divorce - Chair: Martin Dzelzainis (Room 118)
Alison A. Chapman (Professor, University of Alabama, Birmingham, Alabama, USA): "'The Equitie of Those Imperiall Decrees': Roman Law and the Bible in Milton's Divorce Tracts"
Critics have often observed that Roman law plays an outsized role in Milton two major divorce tracts, The Doctrine and Discipline of Divorce and Tetrachordon. In this paper, I argue that Milton turns so repeatedly to Roman law because it offers a model of equitable interpretation, one that allows statutes to be read flexibly in light of their perceived intent. While canon law too prided itself on being an equitable system, the canonists' approach to equity was crucially different from that of Roman jurists. For centuries, theologians had read the Bible's passages on divorce through the lens of canonical equity, and the upshot was that divorce had been effectively banned. But Milton wants his readers to view these same Biblical passages as Roman jurists would and thus to bring a different understanding of equity to bear. Read in this way, he argues, the Bible allows divorce to all. Milton's ultimate goal is to put divorce outside the cognizance of all forms of temporal law. Ironically, his argument relies upon the approach to statutory interpretation that he finds in Roman law and applies to the Christian Bible.
Matt Dolloff (Professor of Humanities, Universidad San Francisco de Quito, Equator): "A Harmonistics of Divorce: Uranian Allusion in Milton's 'High Enterprise'"
Prompted by the conference's setting in Martin Bucer's home of Strasbourg, in this paper I will revisit Milton's divorce tracts and the social justice arguments they make. While the overt persuasive thrust of the tracts is Biblical, Milton enhances and polishes his argument with ideas from Plato. Urania, Milton's Protestant Christian Muse of Paradise Lost, is an emanation of Plato's Uranian Aphrodite and a consistent vehicle for human rights. From Ancient Greece to Milton's own day, she had been an advocate for spiritual unions over the Dionian physical and procreative ones. Her peculiar vocabulary of, for instance, "pregnancy" in wisdom, a "womb of teeming truth," and "solace and delight" populate Milton's tracts along with an emphasis on friendship and a strong prejudice for the masculine over the "androgynous." Bucer's own assertion that there can be "no matrimony […] but what is knit in love and consent" follows suit. This discourse adds color, nuance, and softness to otherwise forceful epideictic, Biblical, and political rhetoric so that his argument for human rights on the topic of divorce takes on a tone less "papistical" and more representative of the Renaissance and Early Modern eras.
Cherrie Gottsleben (ABD - All But Dissertation completed, Graduate Teaching Assistant, Northern Illinois University, Chicago, Illinois, USA): "Milton and the Politics of 'Self-Concernment'"
In October of 2018 Strasbourg's European Court of Human Rights ruled that the right to free speech does not include criticizing the Prophet Muhammad. One scholar writes that "silencing thinkers is always a huge mistake. Scholars study texts and evaluate them. To do so we require the freedom to question their validity, their reliability and their precepts. The court's decision suffocates scholarly inquiry." I cite this in reminiscence of Martin Bucer's 1530 "Preface" to his Commentary on the Gospels where, in the spirit of inquiry, (and concerning Christians) he is concerned with the error of silencing others whose beliefs are out of alliance with ones own, asserting its significance in hermeneutics. Bucer's harmonizing/humanistic approach to doctrine and belief in Strasbourg and England, also evident in his views on marriage and divorce, influenced Milton in his 1644 "Divorce" tract. Like Bucer, Milton's radical stance on divorce reveals a radical position that is linked to expressions of reason and loving social/ familial bonds. Without a reasoning hermeneutical approach, "custome['s] meer face," and "Eccho['s] meere voice" creep into negotiations. Yet, central to Milton's argument was his "self- concernment." This paper explores how Milton's religious politics on divorce in defense of "manly dignity" and male prerogative lends influence to our modern concerns of "self concernment" when our society reinforces a religio-political bias in politicizing silence. I am also interested with Milton's "selfconcernment" in light of political decisions being made based on fears of retribution when faced with possible terrorism.
(2e) Milton and the Visual Arts (II) - Chair : Mario Murgia (Room Pasteur)
Islam Issa (Senior Lecturer in English Literature, Birmingham City University, G.-B.): "'Bossy sculptures graven': Epstein's Lucifer and Milton"
For just over 70 years, the statue "The Archangel Lucifer" has greeted visitors of the Birmingham Museum and Art Gallery in the Midlands region of the United Kingdom. Jacob Epstein's sculpture was influenced by Milton's Paradise Lost. Gifted to the Birmingham Museums Trust in 1947, the statue has become an iconic centerpiece of a main attraction in England's second city. But Epstein, himself a modernist, was not always looked at favorably by canonical modernists, making him an intriguing and perhaps paradoxical figure, and in some ways not dissimilar from aspects of Milton and Satan. This paper addresses such issues as the questionable gender of Epstein's Lucifer, linking it to the characters of Paradise Lost, as well as the fascinating stories surrounding the sculpture and what they reveal about the types and roles of otherness presented by both Epstein and Milton.
Jonathan Olson (Assistant Professor, Grand Canyon University, Phoenix, Arizona, USA): "Malick's Milton"
Although echoes of Genesis are strong in Malick's Badlands (1973), Days of Heaven (1978), and The New World (2005), his favorite literary sources are Augustine, Kirkegaard, Tolstoy, and Heidegger. In this decade, however, Malick's The Tree of Life (2011) and Song to Song (2016) exhibit Miltonic influences that can be distinguished from biblical and other Christian sources. The Tree of Life is motivated by etiological questions and imitates the narrative structure of Paradise Lost. Milton's Satan, however, appears not in The Tree of Life but in Song to Song. Milton has exerted comparatively little influence on characterizations of the devil in films which instead favor Faustian scenarios, especially in satires of the music business like Phantom of the Paradise (1974), Oh, God! You Devil (1984), and Crossroads (1986). Song to Song notably departs from this tradition by modeling its devilish music executive (Michael Fassbender) not on Mephistopheles but on Milton's Satan.
Aaron Shapiro (English Teacher, The Hewitt School, New York City, New York, USA): ""Stained-Glass Biographies": Inscriptions, Monuments, and the Milton Window at St. Margaret's, Westminster"
Milton, famously, aimed to write poetry that would serve as his lasting monument. But what might he have thought of those monuments set up in his honor—his bust in Westminster Abbey, the many inscriptions that bear his words, and the stained-glass window in St. Margaret's, Westminster, representing scenes from his life and works? This paper surveys Milton's statements about monuments, inscriptions, and emblems and then considers the Milton Window in the light of those statements. Inscription, for instance, furnishes Milton with one of his favorite metaphors for innate human knowledge: natural law "ingraven" in us by God. Emblems, too, factor prominently in Milton's poetry and polemics. Just as the text of an emblem interprets the image, the inscriptions and lectures that accompanied the Milton Window offered competing interpretations of Milton's place in literary history. The scenes on the window, the inscribed poem, the dedicatory address by Matthew Arnold (February 18, 1888), and the sermon delivered the next day by Archdeacon F. W. Farrar all laid claim to different versions of their subject, and they connect this episode with larger arguments in the history of Milton criticism.
Joseph Wittreich (Distinguished Professor, CUNY, New York, USA): "The Global Curation of Milton Illustrations"
Based on his long engagement with Milton and the visual arts, including the entry on the subject in the first edition of A Milton Encyclopedia (1978), Wittreich A) will reflect on his participation in the University of Pennsylvania Libraries' acquisition of a strong collection of visual art related to Milton's works, including for example the illustrations by Spain's Salvador Dalí for a French press's publication of Paradis perdu: quatrième chant (1974) and B) summarize the current critical directions reflected in the six papers from the "Delectable to Behold I" and "Delectable to Behold II" panels.
(2f) Milton's Borrowings in Paradise Lost - Chair: John Hale (Room 120)
Kalina Allendorf (Departmental Lecturer in Latin Language and Literature. lecturer in Classics, Corpus Christi College, University of Oxford, G.-B): "Milton's Statius (CANCELLED)
This paper will consider ways in which the final books of Paradise Lost are indebted to classical epic narratives of 'aftermath', in particular Statius' post-Vergilian Roman epic Thebaid. A key pagan author read continuously through the medieval period, Statius' place among the canon of ancient authors is most famously attested in Dante's Purgatorio (Cantos 31-2). The number of commentaries on the Thebaid from the period spanning the 1590s to 1685, as has recently been shown, attests to the wide and varied readings of the poem. Despite its high currency in the medieval and early modern period, Statius' epic has remained neglected as an intertext in Paradise Lost, especially in light of important work on Ovid and Lucan. In this paper, I suggest ways in which Milton maps Adam and Eve's postlapsarian experiences onto key motifs in Statius' post-Vergilian epic. Milton's echoing of the language of hereditary guilt in the Son's intercession for fallen Adam and Eve transforms associations with the cursed house of Oedipus and the tragic tale of the Thebaid. As the Miltonic narrator depicts Adam and Eve leaving Eden with 'providence their guide' (PL 12.647), moreover, he evokes the post-Vergilian technique of an 'ending as beginning' as they negotiate the first post-Edenic chapter in the history of salvation.
Jean David Eynard (Doctoral candidate, University of Cambridge, G.-B.): "Milton as reader of Bodin's Colloquium: Tolerant Æsthetics and the Politics of Writing"
It has long been known that Milton once owned a copy of Bodin's Colloquium Heptaplomeres (Bredvold 1923); his commonplace book also shows great interest in Bodin's political thought. However, the intellectual relationship between these two authors has received surprisingly little attention, with the exception of some general passing remarks (Achinstein and Sauer 2007; Fink 1941; Fulton 2010). This paper aims to address this gap in the scholarship by exploring some compelling similarities between Bodin's Colloquium and Milton's later poems.
I shall start with some brief bibliographical remarks, suggesting that Milton must have owned the Colloquium at least from 1658 onwards (earlier than Bredvold suggests). I will then examine how Bodin's text explores many ideas that would later find expression in Paradise Lost and other late writings – from ideas about God's liberty and the possibility of civil wars between Angels, to the cosmological belief that individual disagreements make up the most sublime harmony. This idea of discordia concors informs not only Bodin's politics and theodicy, but also the polyphonic structure of his text (Fabbri 2004). I argue that Bodin's tolerant aesthetics in the Colloquium (which bridges between univocal totalitarianism and dissonant sectarianism) finds an important parallel in Milton's authorial practice, and best testifies to the significance of this text for the English author, which deserves better recognition.
Thomas Vozar (Doctoral candidate, University of Exeter, G.-B.): "Milton, Enthusiasm, and the Sublime"
From the earliest years of the Reformation there appeared those who claimed to receive direct revelations from the Holy Spirit, such as Melchior Hoffman, who declared that in Easter 1533 the city of Strasbourg would become the site of the New Jerusalem. Martin Luther labeled them Schwärmer; in English, they were enthusiasts. In the age of Milton the problem of enthusiasm was especially acute, threatening authorities religious and political alike. But enthusiasm also signifed "poeticall furie" (in Joshua Sylvester's words), making it important to distinguish between rhetorical enthusiasm and "real" enthusiasm: the difference, as Henry More put it, is that "a Poet is an Enthusiast in jest, and an Enthusiast is a Poet in good earnest."
Milton derides enthusiasts several times in his prose, but he cannot be said to have an uncomplicated relationship with enthusiasm, given his radical politics, his idiosyncratic theology, and his poetry's claims of inspiration; indeed several scholars have suggested that Restoration writers found the "enthusiasm" of his poetry problematic precisely because it seemed to be more than merely rhetorical. This paper considers Milton and enthusiasm in relation to the treatise De Sublimitate attributed to Longinus (whom Milton names in Of Education), which often speaks of its subject in terms of divine inspiration and enthusiasm.
<< back to Panel sessions 2 MENU
19h00-20h00: Visit of the Cathedral
The organizers.
Updated: 15 June 2019